Gilmore Brittanys has provided many new owners with some of the best hunting companions they will ever have. We've received numerous updates from satisfied new owners about thier experiences with the dogs and Gilmore Brittanys. A few of them are posted below.
Thank you for the Great Dog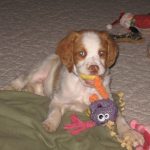 My mes pup is getting accustom to my dog babes and his new home. We are bonding . We nemed him Rudi Chief. Took him for a vet cheek, everything is fine. Want to thank you for the great dog.
Jim Johnson
Very Birdie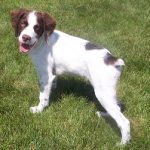 Hi Kevin,
This is Charley. Everything is going good. All his vet checks have been good. He's about 20 lbs now. He is doing pretty good with training, seems to be very "birdie". I'm looking forward to hunting season!
Dan
Points and Retrieves Perfectly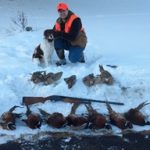 Kevin,
We bought Browning from you last year in the spring. We wanted to let you know he has been amazing. I have never trained a dog before for hunting but he figured it out on his own. He points and retrieves perfectly.
Thanks alot i attached a few pictures for you.
J Frisch
Great Water Retrieves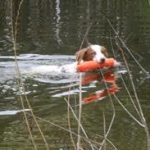 Hi Kevin,
Just wanted to send you some photos that I promised you. I picked up a puppy back in December, around the 8th or 9th, 2011 and she is great. These photos are all from April/May 2012.
She'll be hunting a lot this year! Great water retrieves!
Ruth Howell
Great Bird Dog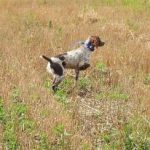 Kevin,
He is doing great. I am looking forward to hunting over him this fall.
Thanks for such a great bird dog.
Kirk Brien
Great with Kids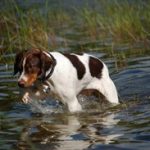 Good Morning Kevin!
Oh she's doing great! We LOVE her! Last Sunday she took up fishing at our cabin all on her own (few pictures included). No quite as good as Cassie was, but its not easy catching blue gill! You can see she was getting the point down though! She's been pointing and flushing out birds and cats in our yards. Especially at our cabin. My dad is thinking of training her for hunting since he is now retired. She's got such character though! She loves to dig up our beach to look for roots. Yes roots. Probably b/c I had to dig them out myself (we are not allowed to rototill the beaches) and she figured out what I was doing so started doing it too. And she loves to eat the snails in the lake. Yuck! She is so great with kids which is such a good thing with my family (another picture included). And is so good around other dogs.
We have gotten so many compliments on her looks. Even other Brittany owners have not heard of the tri-color (I did mention your name and website for them to check when they are ready to get another dog).
Pointing Machine
Kevin,
The pup is a pointing machine. He is doing great and almost bigger than my female. Thanks for setting me up with such a great dog. He is all natural ability. We are going to be working with him to run some hunt test. I will keep you posted on his progress. Thanks again.
Paul Voelkel
Full of Energy
Hi Kevin,
Puppy is doing great. He's full of energy. Very happy with him.
Brent Cooper
Part of the Family
Kevin,
Jackson is doing great! Seems like it only took him a day or two and he'd made himself part of the family. He and my daughter Ella are good together and play nicely. Bird training is coming along. Jackson has a great nose and holds point well, he'll be a fine bird dog. Thanks for everything.
Stephen Stacy
Fantastic Addition to the Family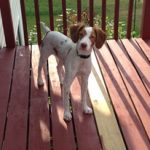 Hi Kevin,
We have been very happy with our "new" pup. We named him Remington. He was ringing the bells to go outside within 2 days and housebroken in the first week. He recently graduated puppy obedience class and was a very quick learner. we have been walking him about 3 miles a day and by the time we get him home he finally starts to slow down. LOL. He has been a FANTASTIC addition to our family!
Randy Hanson
Good Looking Brit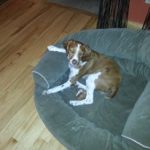 Hi Kevin,
Henri is doing AWESOME!!! Full of energy (as expected), funny as heck and a real love. In fact, our 3 year old granddaughter calls him silly boy.
We just interrupted him playing with a water bottle to get you a picture. He's REALLY little (like 25lbs). I keep loosening his collar and asking him if that will make his head get bigger. The bloodhound loves to wrestle with him and the black and tan coon hound loves to play momma making sure they don't get to rambunctious.
Attached are the photos of a good lookin' Brit regardless of his size. Ones a little fuzzy, he just doesn't stand still!
We LOVE him!
Janis and Kent and Lililoo and Bella and Henri
Completely Satisfied
Kevin,
My family and I are completely satisfied with our two Brittany's we have from Gilmore Brittany's. We purchased a male approximately two years ago. He has been an excellent family dog, gets along great with kids, and is a skilled hunting partner. With very little training, he points pheasants like a pro. He is a handsome dog we constantly get compliments on. Very recently, we have purchased a female tri-colored Brittany from Gilmore Brittany's. She is beautiful, has a great personality, and we are very pleased. We cannot wait to see how she does hunting.
Randy K, Hastings
Fun to Watch in the Field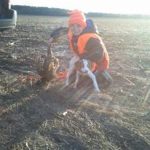 Kevin,
It may be a bit early at 14 weeks to tell but, hunting must run deep in her family tree. She has been fun to watch in the field and we have seen to find plenty of birds.
Checkout the attached photos… I have a friend that said he is calling you when his son is a bit older to get a Brit after seeing her!!!
Jeff Leverenz
Outstanding Nose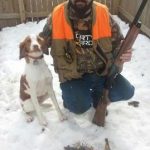 Hi Kevin,
I had bought a dog from you about a year and half ago. He is doing awesome more than I could of hoped for. He has an outstanding nose and will hold point forever. Going to start guiding hunts and running him in the bdc competitions. Thanks again for a great dog!
Mike Ceslok & Boomer
Best Dog Ever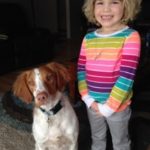 Hi Kevin,
Here is a picture of jake and our daughter Laura. He is a year old today! BY FAR, the best dog either my husband or I have ever had:) Thanks again!!!
Beth Geisler
Adjusted Well
It was a pleasure meeting you and your wife and your beautiful dogs. We are still working on a name for our new puppy. Our drive home was uneventful because she either sat quietly or slept. We did take a side trip to my oldest daughter's home to show her off to our grandson and granddaughter. They liked the puppy a lot. The puppy slept all night and didn't even cry. Maybe tonight will be different because she is quickly adapting to home life.
Our youngest daughter and her family came over to visit the new puppy since they live only a mile away. My granddaughter loved the puppy!! She is used to big dogs since they have a black lab mix and their other grandmother has huge labs. Brittanys are like midgets to her J
Attached are a few pictures. You can see our puppy is adjusting well.
Thank you for such a cute puppy.
Nonnoa and Joe
Search & Rescue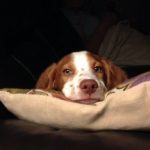 Hi Kevin, Remember us?
We were the folks from California who picked up a little male Brittany from you last summer with hopes of putting him in Search & Rescue work. Just wanted to let you know how he is doing.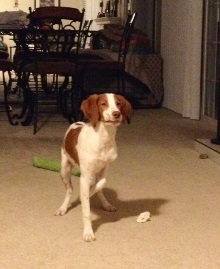 He is a real character; very smart, playful, energetic & addicted to his ball! But that probably describes most Brittanys!
His name is Rudy & we have been teaching him basic obedience& doing some hide & seek games. But this week he finally got to participate in a session with CARDA, the California Rescue Dog group that my husband Bob is working with. He was put through some exercises to see how well he can search for an individual in a controlled setting & he did great! For an almost 10 month old, the experienced handlers were impressed with his potential. He definitely has the right temperament & energy level. Very happy to work!
Bob & Rudy have a great bond; Rudy cries for him every time he leaves the house!!
Anyway, just wanted to let you know how he's getting along & how happy we are with him! We have passed along your name to midwest family & friends who are interested in Brittany's.
I've attached a few pictures & a movie of Rudy in the California hills having fun so you can see what a beautiful boy he is!
We'll let you know his progress in the coming months with the Search & Rescue training.
Monica Collins
Unbelievable nose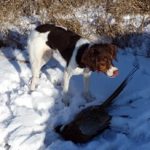 Our tri-color female, Bailey, is now a year and a half old. She is full of energy and has quite the personality. She gets along great with our older male Brittany, Tracker. When it comes to hunting, she has an unbelievable nose and proved herself to be an asset this past fall. Her unique tri-color sets her apart in a crowd. We have gotten countless compliments about her. We cannot say enough about the temperament of your dogs! the make great family pets and outstanding hunting companions.
Thanks,
Randy
We are just so unbelievably happy
Hi Kevin, it's Julia and Joey from all the way in New York! We took a chance buying a dog so far away from us without even seeing him, but it was the best decision of our lives. He arrived as a healthy and VERY energetic puppy and has become a part of our family. You had mentioned to us that he would be a "hunting machine"… And you sure were right! He is now 7 months old and finding pheasant and chuckers every time we take him hunting. We are working hard with him on training and he picks it up so fast- he is such a smart puppy! There is not one place we take him where he doesn't have tons of people coming up to pet him and compliment his looks. We are just so unbelievably happy to have River a part of our family. Oh and one more thing, he was there with us at the top of Overlook Mountain in Woodstock, NY as we got engaged!
Thank you again!
Julia and Joey
A phenomenal dog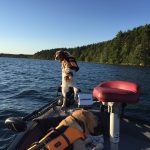 Kevin, I purchased a Brittany from you last fall and I named him Hobie. He will be one year old on September 29. You are told me he would be a hunting machine and you were absolutely right he is a phenomenal dog already! We are leaving this weekend for Sharptailed grouse in North Dakota and I have no reason to believe he will not perform as expected. We've already done a few pheasant hunts at local farms and he is right on the money every time. Not to mention his personality is just so awesome and what a great family companion. Thank you again for such a wonderful animal and I will share photos from our fall hunts soon.
Greg Vicker
These dogs are pure hunters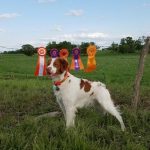 I purchased my Brit from Gilmore Brittanys in December 2015. Kevin easily has the best breeding program I have found. You won't find better bloodlines in the Midwest. I think he has some of the best Brittanys in the Country. I had a nationally renound pointing dog trainer that was very impressed with my dog. I was killing limits of grouse and woodcock over Casey when he was only 10 months old. I can't express how well this dog hunts as a puppy! These dogs are pure hunters. Gilmore Brittanys is the only breeder I would consider for my next pup. Thanks Kevin!
Pic shown is Casey with his senior hunter title ribbons. 5 attempts and 5 qualifying scores. 18 months old. Average score of 8 out of 10.
Nik Zewers